This is OJ, a stray cat who never got vaccinated as a kitten and is having some health trouble. Over several months, we saw him from a distance but he would never allow us to approach him. Then a few months ago, he came up to us meowing. He had an eye infection. We took him in to get him neutered and vaccinated, not realizing at first that he had bigger problems. We gave him antibiotics for the infection and he seemed to get better. Unfortunately, the eye infection returned. Then last week, I took him to see the mobile vet. She said that he has FHV and that nearly all of his teeth are infected and will need to be extracted. She estimated the cost at about $450. She told us that the virus will never go away; it resides in the cat's body and will have flare-ups now and then (primarily respiratory). Since OJ's teeth are so bad, it's causing him more problems, but with less infection for his immune system to fight, he should improve.
I want to get the surgery for him and can feed him soft food afterward, but the number of stray cats and vet bills are a little much to be able to add a $450 surgery right now. If anyone would like to help get this done for OJ, that would be appreciated. I made a magnet as a reminder of what you did for him.
Update: OJ has finished his surgery. It came in just a little over the estimate. Thank you to everyone who contributed to help cover the cost. He is being cared for by Corinna (who lives nearby) for a few days, as she has a lot of experience with nursing animals after surgery and wanted to help.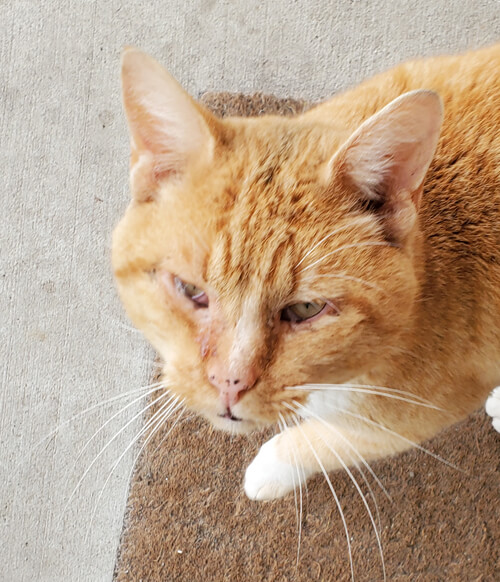 OJ is a sweet cat. In the photo below (which I just took today), he is kneading the air in happiness just because I'm giving him a little attention. He must be in quite a bit of pain because of his teeth, but he's a good-natured cat. Thank you for taking the time to check out his story.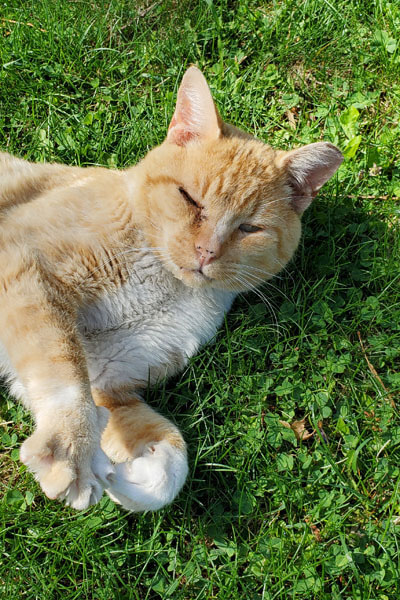 If anyone is interested in adopting OJ, please contact us. It would probably be best if he stayed fairly nearby, so as not to stress him with travel. (He currently lives in eastern Washington State.) We plan to keep caring for him and feeding him wet food, but we are open to the idea of him having a forever home somewhere that he can be coddled and given one-on-one attention.